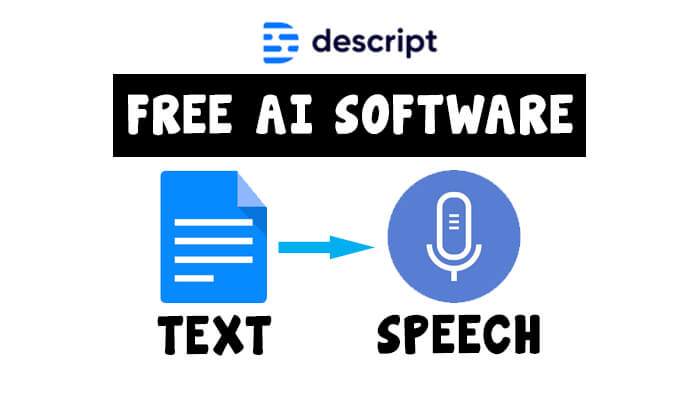 In today's digital age, the demand for efficient and versatile tools to enhance productivity and streamline tasks is ever-increasing. Text-to-speech software has emerged as a powerful solution for converting written text into spoken words. This guide aims to provide you with a comprehensive understanding of text-to-speech software, with a specific focus on Descript—a leading platform in this domain.
What is Text-to-Speech?
Text-to-speech (TTS) technology enables the conversion of written text into natural-sounding speech. It utilizes advanced algorithms and synthetic voices to generate high-quality audio output. TTS software finds applications in various fields, including accessibility, content creation, e-learning, and more.
Overview of Descript
Descript is a cutting-edge text-to-speech software that goes beyond traditional TTS functionality. It offers a range of features designed to enhance audio editing, transcription, collaboration, and customization. With its intuitive interface and powerful capabilities, Descript has gained popularity among podcasters, content creators, and professionals in the media industry.
Download Descript Software Free:
Features of Descript
Descript boasts a plethora of features that empower users to create and edit audio content efficiently. Some notable features include:
Text-based Editing: Descript allows you to edit audio by manipulating the corresponding text transcript. This unique approach simplifies the editing process and enables seamless modifications.
Multi-track Editing: With Descript, you can work with multiple audio tracks simultaneously, making it easier to handle complex projects and ensure precise synchronization.
Transcription Capabilities: The software offers automatic speech recognition (ASR) technology, enabling quick and accurate transcription of audio files. This feature saves time and effort, especially when dealing with lengthy recordings.
Collaboration Tools: Descript provides collaborative editing features, allowing multiple users to work on the same project concurrently. Real-time collaboration, commenting, and version control streamline teamwork and foster efficient workflows.
Text-to-Speech Customization: Users can customize the generated speech by adjusting parameters such as voice speed, pitch, and emphasis. This flexibility ensures that the synthesized speech aligns with the intended tone and style.
Getting Started with Descript
To start using Descript, you can sign up for an account on their website and download the desktop application. Once installed, you can explore the various features and begin importing your audio files or creating new projects from scratch.
Editing and Transcribing Audio
Descript simplifies the process of editing and transcribing audio content. By utilizing the text-based editing approach, you can make changes to your audio by editing the corresponding text transcript. This innovative method offers a more intuitive and efficient way to edit spoken words.
With Descript's automatic speech recognition (ASR) technology, you can quickly transcribe your audio files. The software accurately converts spoken words into text, saving you the time and effort of manually transcribing lengthy recordings. This feature is particularly beneficial for podcasters, journalists, and researchers who deal with large volumes of audio content.
Furthermore, Descript allows you to edit the transcript directly, making it easy to remove unwanted parts, rearrange sentences, or insert new text. As you make changes to the transcript, the audio is automatically synced, ensuring that your edits reflect in the corresponding audio track. This real-time synchronization eliminates the need for complex audio editing tools and provides a seamless editing experience.
Collaboration and Teamwork
Descript understands the importance of collaboration in creative projects. With its collaborative editing features, multiple users can work on the same project simultaneously. Real-time collaboration allows team members to make edits, leave comments, and provide feedback in a shared workspace.
Additionally, Descript offers version control, enabling you to track changes made by different collaborators. This feature ensures that you can revert to previous versions if needed and maintain the integrity of your project. Collaborative workflows are further enhanced through seamless integration with popular communication and project management tools, facilitating efficient teamwork and streamlined processes.
Customizing Text-to-Speech
Descript empowers users to customize the generated text-to-speech output according to their preferences. You can adjust parameters such as voice speed, pitch, and emphasis to create a personalized and natural-sounding audio experience. This customization allows you to match the synthesized speech with the desired tone, style, or branding requirements.
By fine-tuning the text-to-speech settings, you can ensure that the audio aligns with your content's context and effectively conveys the intended message. Whether you're creating podcasts, audiobooks, or multimedia presentations, Descript offers the flexibility to tailor the speech synthesis to your specific needs.
Integrations and Export Options
Descript integrates seamlessly with other popular tools and platforms, expanding its capabilities and enhancing your workflow. You can connect Descript with video editing software, transcription services, cloud storage solutions, and more. These integrations enable smooth data exchange and facilitate a seamless transition between different tools within your production pipeline.
Moreover, Descript provides various export options to suit your requirements. You can export your edited audio as standard audio file formats (such as MP3 or WAV), publish directly to podcasting platforms, or share your content across social media channels. The diverse export options ensure that you can distribute your audio content effortlessly to reach your target audience.
Pricing and Plans
Descript offers different pricing plans to cater to the varying needs of users. They provide both free and paid subscriptions, with the paid plans offering additional features and benefits. Pricing details can be found on their official website, where you can select the plan that best suits your requirements.
Pros and Cons of Descript
Like any software, Descript has its strengths and limitations. Here are some pros and cons to consider:
Pros:
Intuitive text-based editing interface
Accurate transcription capabilities
Real-time collaboration and version control
Customizable text-to-speech output
Seamless integrations with other tools and platforms
Cons:
Advanced features may have a learning curve for new users
Limited free plan functionality
Reliance on internet connectivity for some features
Conclusion:
Descript is a powerful text-to-speech software that offers a range of features to enhance your audio editing and transcription tasks. With its intuitive text-based editing interface, you can easily make changes to your audio by editing the corresponding transcript, saving you time and effort.
Descript's automatic speech recognition technology ensures accurate and efficient transcription, making it an invaluable tool for content creators, podcasters, and professionals in the media industry. The collaborative editing features enable seamless teamwork, allowing multiple users to work on the same project simultaneously and providing real-time feedback and comments.
One of Descript's standout features is the ability to customize the text-to-speech output, giving you the flexibility to match the synthesized speech with your desired tone and style. The software's integrations with other tools and platforms further enhance your workflow, while the diverse export options make it easy to share your audio content across different channels.
While Descript offers numerous benefits, it's essential to consider the learning curve associated with advanced features and the limitations of the free plan. However, for those seeking a comprehensive text-to-speech solution with robust editing capabilities and collaborative features, Descript proves to be a valuable asset.
Embrace the power of Descript and take your audio editing and transcription to new heights, whether you're creating podcasts, audiobooks, or multimedia presentations. Explore its features, customize your audio, and streamline your workflow with this innovative text-to-speech software.